Discovery Flashcards
Discovery Flashcards is a unique free program that can help you study. It has many great features. The program is designed to be simple and easy to use. This program has been reviewed by listoffreeware.com! Please use the contact page to let me know if you would like to see this program receive updates.
Screenshots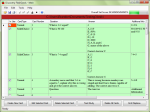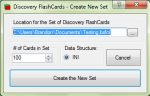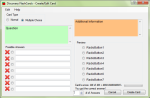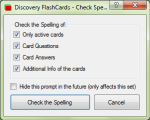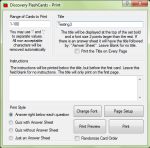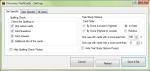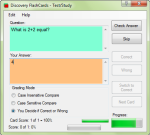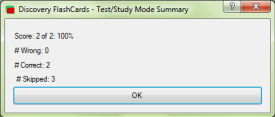 Click on the thumnnails for a larger view (the images will open in a new window)
Features
100% spyware and malware free
Free for personal, educational, or corporate use
Easy to use
Great learning resource
Great for many different subjects
Shortcuts to insert squared, cubed, square root, and plus minus symbols
Spell check cards with Word 2003 and 2007
Export to comma delimited text files
Free email support
Automatic and manual check for updates
Keeps card scores and view a graph of these scores
Error Reporting
Random number generation in card question/answers
Support for multiple choice answers
Search for phrase and replace all functions
Easy to make portable
View detailed test/study mode results
Many different options for test/study order including: random, reverse order, lowest to highest card score, highest to lowest card score, or in order
Ability to create study only mode sets that keep detailed record of the study results
Request any additional features you would like to see
System Requirements
This software is designed to be run on Microsoft Windows
This software requires the .NET framework version 2.0. If you are running Windows Vista or later then you shouldn't need to worry about installing the .NET framework
Download
Download the installer or the portable version.
Version
Release Date (MM/DD/YY)
Size
Download Type
Download Link
Hash Info
2.2.0.0
05/04/11
2.14 MB
Installer
Download
MD5=579dad13cfa106f7fd15be83457bd256
SHA1=1fa690fd57e5face310672df498e1ce7eb3a21a3
2.2.0.0
05/04/11
1.78 MB
Portable Version (Zip file)
Download
MD5=34ce28d83f25b14b045c6e9cf6500a55
SHA1=2eacd6524fbb3faa84c9207767aa95fa0090714c
2.1.0.0
02/16/11
1.70 MB
Zipped Installer
Download
MD5=bf0c29f52bd8426e434d37b1b92bf942
SHA1=3ec27ba1c388d9044cb7e4804398c593c8d822a6
2.1.0.0
02/16/11
1.49 MB
Portable Zip File
Download
MD5=ce147ce4369852e9ef9f4f9531a642b4
SHA1=15b7a407a9eea32fc5a563757513def50d8c9c1f
2.0.0.0
01/03/11
1.67 MB
Zipped Installer
Download
MD5=c89025bc09f3be88332060696a1ca54e
SHA1=f7a40da0cad4edb7d668052d348e2955a739ff6a
2.0.0.0
01/03/11
1.44 MB
Portable Zip File
Download
MD5=06d640b11e1e61ff23214b18288efef9
SHA1=b14003c2078485da81917f733cc6383e28990023
1.2.1.0
11/05/09
2.17 MB
Zipped Installer
Download
MD5=63c65b9b2e8cf8e6c4cf87dd826569e5
SHA1=268ccc917a99b10c1de18b69f292b8f0899f81f1
1.2.1.0
11/05/09
2.01 MB
Portable Zip File
Download
MD5=b98315fd362e3192a461ad6324b61c53
SHA1=a485c9e58052d2671e43188174a40fd64296dbaa
1.2.0.0
10/21/09
2.04 MB
Zipped Installer
Download
MD5=eba776a59812320fb4dc296899cad706
SHA1=92d409c15f1e76cd253cd7613d261c9e3bebb998
1.2.0.0
11/21/09
1.88 MB
Portable Zip File
Download
MD5=de81f41157bc45950d47bf8f7f92f009
SHA1=8fa26fa7a391ed2af7976996e6a4b87dcf8caa46
1.1.0.0
10/06/09
1.21 MB
Zipped Installer
Download
MD5=56eb5168c3b78252c6e109e53dc86b27
SHA1=6e735cd1b3d9061b87d7d728a9d3c1b42ff074e0
1.1.0.0
10/06/09
1.06 MB
Portable Zip File
Download
MD5=f2e61b1f267cb1992aecb29117eaaf9e
SHA1=9d9e006494b8ca432d628d3bbeb716c2909b7974
Version Naming Convention:
The program version 1.2.3.4 is changed as follows:
Changed when the file version is updated. For example, files saved with version 2.x.x.x cannot be opened by version 1.x.x.x of the program.
Changed when new features are added or improved.
Changed only when program errors (bugs) are fixed and/or minor improvements are made.
Changed only when slight changes are made that will not affect most people.
Version History
Version 2.2.0.0 (5-4-11)

Added: The ability to test/study in reverse card order
Fixed: Clicking the red x on the test/study form would close the form without showing the summary form
Added: The ability to specify card number when creating/editing a card
Added: Test/Study mode results with exact cards correct, wrong, and skipped
The ability to print in reverse card order and display the final print card order for easy reproduction of random card order
Added: Sets that can only be used in Test/Study mode that store detailed score info along with user provided name/ID in a password protected manner

Version 2.1.0.0 (2-16-11)

Fixed: Printing an answer sheet that should span more than one page would cause an infinite number of pages to print
Changed: Print document name (shown in the print queue and when using some PDF printers) now includes the title from the print form
Fixed: Logging settings were not saved for all users, but were saved as if they were user settings
Added: Setting for users email address for logging errors
Added: Ability for users to add more info and an email address when an error occurs
Fixed: Create New Set Form was not getting file extension from the file browser dialog
Fixed: Edit selected card wasn't loading # of answers for multiple choice cards
Added: Ability to change font for the main form
Changed: Font color on the label that shows the set path
Fixed: Portable mode wasn't starting

Version 2.0.0.0 (1-3-11)

Changed the settings file to be in the application directory for non portable installations
Removed the need for the advanced function library because it was causing problems on Windows 7
Added ability to keep card scores and show those scores in a graph
Changed message boxes to use VDialog
Added an insert bullet shortcut
Improved error handling/reporting
Fixed: Label on the main form now updates to show the current sets path
Added a random number generator to cards (&rand#:Low:High;)
Improved check for updates
Added support for multiple choice answers
Added ability to search/replace all for a phrase from main form
Removed the dual builds for portable, now it is stored in settings file
Greatly improved printing, now it actually prints to paper instead of to a text file for notepad to print
Added keyboard shortcuts to test/study mode
Added options to test/study mode
Tray icon is available without being in protable mode; Use settings to control
Switched to question/answer instead of front/back of card
Now you can have multiple instances of the application running at the same time
Changed website from discoverybyte.uuuq.com to discoverybyte.zxq.net due to network problems

Version 1.2.1.0 (11-5-09)

Changed the default sets path to My Documents
Now if the folder doesn't exist when creating or modifying a set it will be created
You can now change the path when creating/modifying a set; you no longer have to use the browse dialog
Fixed: Title on Load Set Dialog
Print range can now have spaces
Changed 'Study FlashCard' to 'Discovery FlashCard' on all form controls
Fixed: Loadset Filter for INI Sets would show nothing

Version 1.2.0.0 (10-21-09)

Updated the logo from 'Study FlashCards' to 'Discovery FlashCards'
Improved unhandled exception handling (program errors)

You can choose whether to log errors, although it is recommended to log errors
You can choose where to save the error log file
Added ability to open default web browser to upload error log file form

All forms now display in the taskbar
Improved the check for updates error handling, now it doesn't freeze if advanced function library isn't installed
Added advanced function library installer, so it installs when the program is installed

Version 1.1.0.0 (10-6-09)

Changed name from "Study FlashCards" to "Discovery FlashCards"
Redefined when version numbers are changed

Version 1.0.2.0

Added the ability for it to check for updates
Added website and email link on about page

Version 1.0.1.0

Fixed: Modifying a set would destroy the set
Improved the way the file associations work
Removed the character limit on the create/edit card form text boxes
Added a cancel button to the create card form
Enabled viewing multiline card data on the main form (Note: you still cannot create a new line from the main form, you will need to use the create card form to do that)
Disabled tab support, so that the tab key will move to the back of card text box in create/edit card form
When the create/edit card form is loaded, it will now select the entire contents of the front of the card
Left aligned the content of the text boxes on the test/study form, now it matches the create/edit card form
Removed support for the retest function, it was not working properly and needs lots of work to get it working
Improved the splashscreen, it now actually shows the logo as it is supposed to
Added scroll bars to the create/edit form and test/study form text boxes, before it you had to select text to make it scroll